By dBaseGeoffrey | News Releases , Newsroom
Today, dBase LLC is proud to announce the immediate availability of dBASE CLASSIC™, the newly repackaged historic database, based on dBASE V for DOS. The dBASE V for DOS was one of the most used databases in the historic timeline of dBASE. This was really the first fully realized IDE and database combination for building and managing data across a wide spectrum of users. Here at dBase LLC we recognized that a large number of users are still using dBASE on MS-DOS platforms, which is why we introduced dbDOS™. Updating from prior versions of dBASE for DOS to the final and most stable release in order to maintain the longevity of these sometimes mission critical applications, is more than worth the effort. Until today, the only way to get a licensed copy of dBASE V for DOS was to purchase an upgrade or a new copy of dBASE PLUS 2.8 and purchase the additional CD. That was a costly matter for our customers that were not looking to upgrade their applications to a windows version of dBASE at this time.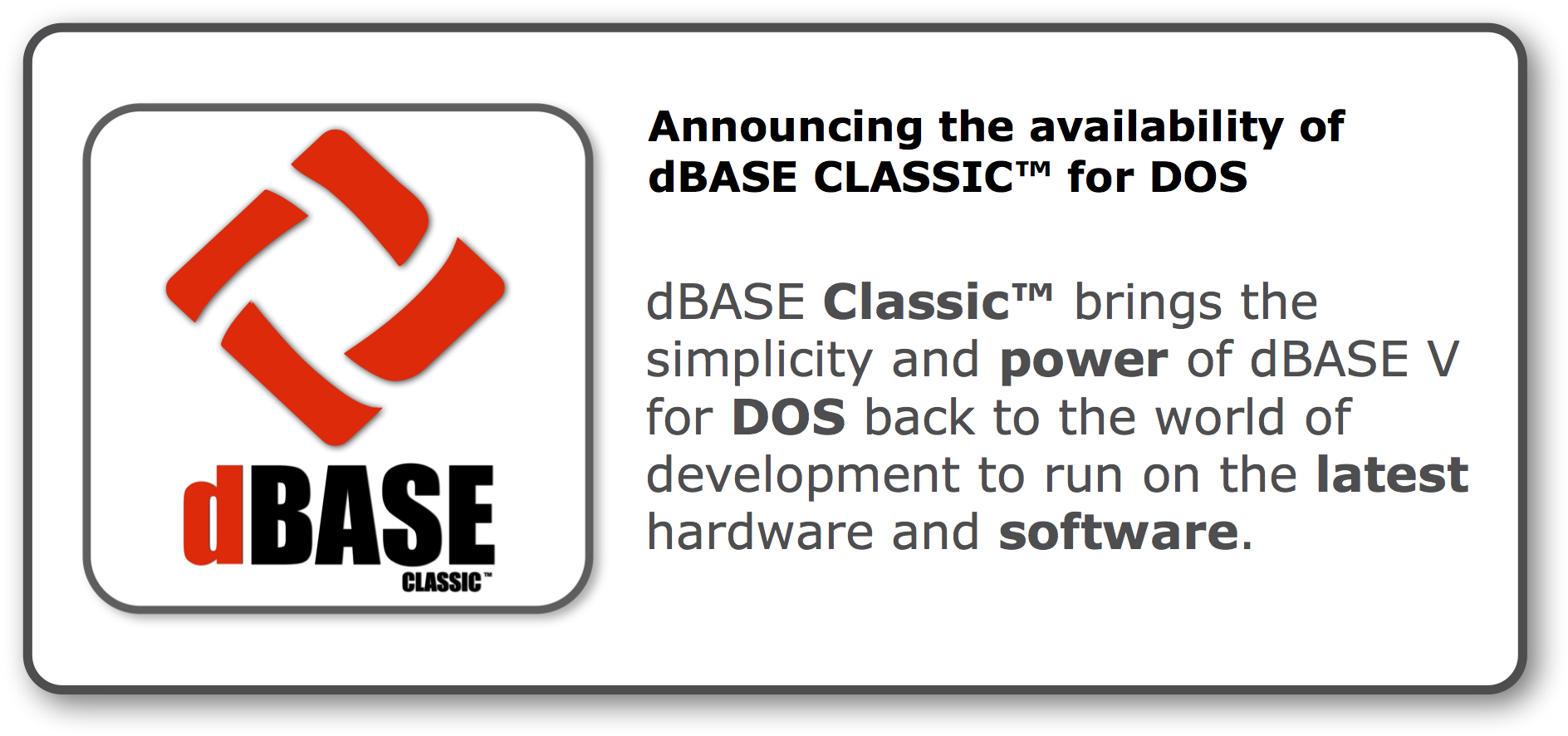 The new dBASE CLASSIC™ is a stand-alone, fully licensed version of dBASE V for DOS at an introductory price of $99.00 USD. Also included exclusively with this stand-alone version are the searchable PDF versions of the entire documentation set that originally shipped with dBASE V for DOS. dBase LLC is calling the included documentation a "box of docs" and for those customers who cannot remember, the original dBASE V for DOS was shipped with 5 manuals weighing just over 15 pounds. dBASE CLASSIC™ will not weigh that much, but it will have all the information that was shipped in the original dBASE V for DOS. "I am really excited about making dBASE CLASSIC™ available to the dBase user community," said Michael Rozlog, CEO of dBase LLC. "The fact that we now have a way for users to continue to use their existing DOS based products on the latest and greatest Windows® hardware and software with dbDOS™, and now the ability to get a copy of dBASE V for DOS with the full doc set is really cool. Plus, the price and red tape are significantly reduced in the new packaging!" The new dBASE CLASSIC™ will be sold in two packages; the $99.00 USD package, which includes the entire dBASE V for DOS product, and the $198.00 USD package, a bundle which includes both dBASE CLASSIC™ and dbDOS™. Both packages are sold on a per-user basis.