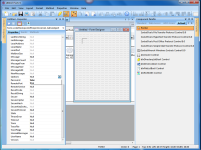 SocketTools is a suite of ActiveX controls and libraries for software developers who need to integrate Internet functionality into their Windows applications. Using SocketTools, you can easily add features such as uploading and downloading files, sending and retrieving e-mail, exchanging information with web servers, interactive terminal sessions, and remote system management.
SocketTools – File Transfer Protocol Control 8 – The File Transfer Protocol (FTP) control provides a comprehensive API which supports both high level operations, such as uploading or downloading files, as well as a collection of lower-level file I/O functions. In addition to file transfers, an application can create, rename, and delete files and directories, search for files using wildcards and perform other common file management functions.
SocketTools – Hypertext Transfer Protocol Control 8 – The Hypertext Transfer Protocol (HTTP) is a lightweight, stateless application protocol that is used to access resources on web servers, as well as send data to those servers for processing. The control provides direct, low-level access to the server and the commands that are used to retrieve resources (i.e.: documents, images, etc.). The control also provides a simple interface for downloading resources to the local host, similar to how the SocketTools FTP control can be used to download files.
SocketTools – Post Office Protocol Control 8 – The Post Office Protocol (POP3) provides access to a user's new e-mail messages on a mail server. Methods are provided for listing available messages and then retrieving those messages, storing them either in files or in memory. Once a user's messages have been downloaded to the local system, they are typically removed from the server. This is the most popular e-mail protocol used by Internet Service Providers (ISPs) and the control provides a complete interface for managing a user's mailbox. This control is typically used in conjunction with the Mail Message control, which is used to process the messages that are retrieved from the server.
SocketTools – Simple Mail Transfer Protocol Control 8 – The Simple Mail Transfer Protocol (SMTP) enables applications to deliver e-mail messages to one or more recipients. The control provides an interface for addressing and delivering messages, and extended features such as user authentication and delivery status notification. Unlike Microsoft's Messaging API (MAPI) or Collaboration Data Objects (CDO), there is no requirement to have certain third-party e-mail applications installed or specific types of servers installed on the local system. The control can be used to deliver mail through a wide variety of systems, from standard UNIX based mail servers to Windows systems running Exchange or Lotus Notes and Domino.
SocketWrench Windows Socket Control 8 – The SocketWrench control provides a simplified interface for the standard Windows Sockets API used to develop Internet and intranet applications using the TCP/IP protocol. With SocketWrench, you can create both client and server applications, as well as send and receive UDP datagrams.
[button url="#" bg="EB1A22″ color="FFF" bg_hover="#EB1A22″ target="blank"] New in 9.0 [/button]